I ran across the picture above somewhere, probably Dark Roasted Blend, and I thought it was pretty impressive. Having a mobile crane lift a smaller mobile crane, and then have a larger mobile crane lift those two, and then have a great big mobile crane lift all three of them is a great demonstration of the masterful skill of the lift engineer and the riggers who made it work.
From the Vertikal.net website article:
"The highlight of the machine demonstrations was the LR 13000 lifting the three smaller cranes. This particularly tricky lift was the brain-child of Hans-Dieter Willim, Liebherr's chief crane designer. The LTR 1100 weight 62 tonnes was the first to be lifted by the LR1350/1 and raised to a height of about five metres which meant that after all the lifts it would be at a height of about 20 metres."
"…
Two holding/guy ropes were used – attached to telehandlers – to stop the cranes swinging backwards and forwards in the wind. The LR 11350 then lifted the two cranes at a radius of 14 metres – 75 percent of its maxium capacity at that radius. The centre of gravity was located at a height of 8.2 metres.
…
Finally the LR 13000, fitted with a 108 metre Power (P) boom lifted all three cranes – with a combined weight of 1,430 tonnes, at a radius of 30 metres. The crane has a capacity of 1,521 tonnes at that radius and was therefore at 94 percent of its capacity.
The cranes and hook were then rotated by two telehandlers, even with the hooks roller bearings the rear telehandler had to apply a force of one tonne at a 5.5 metre radius. In additon to their role of turing the load, the telehandlers also provided some protection from lateral winds.
The LR13000 was then able to slew the load smoothly as both the counterweight and three crane load were in balance. To end the demonstration, the LR 13000 then tracked – very slowly – with its 5,000 tonne applying a ground pressure of only 70 tonnes per square metre. Additional mats could be used to reduce this to 30 tonnes a square metre."
 There's more to the story at Vertikal.net.
I also found a video of the lift that you can watch. (JFR, I had already written and scheduled this post before I spotted the same video over on Giz. Weird minds think alike, evidently.):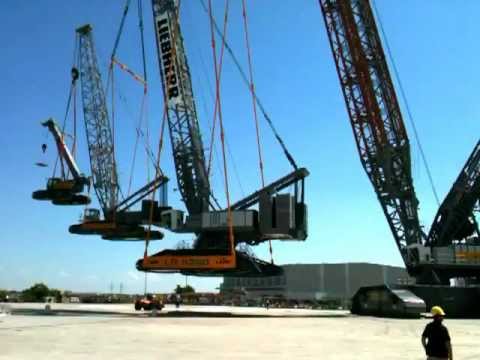 All they needed was one of those huge harbour tower cranes to lift all four of the mobiles to top it off, but I guess you can't have everything.