Good morning everyone.
Some of the more interesting get-togethers that happen in the sciences are the tri-annual Solvay Conferences. The first conference held in 1911 was invitation only, and the subject was Radiation and the Quanta. Luminaries in the field of physics such as Max Plank, Hendrik Lorentz, Albert Einstein (the second youngest attendee), The Lord Rutherford of Nelson (i.e. Ernest Rutherford), Marie Curie, and many others drank and argued and sniped at each other about classical physics versus quantum theory and why two approaches to the subject at hand was evil, especially if one of them was called quantum theory. The minds in the room were all so open that you could positively feel a draft…
The conference was such a success (no murders occurred) that the sponsor of the event, Ernest Solvay, a Belgian with very deep pockets and a bent for science, founded the International Solvay Institute of Physics the following year. Its first mission was to "promote research, the purpose of which is to enlarge and deepen the understanding of natural phenomena". The main goal of the Institute was thus the development of physics, "without excluding problems belonging to other areas of science provided that these are connected with physics". 1 Whoever wrote that left out "and the Founder's desire to see men of great learning get drunk and scream at each other and occasionally exchange clumsy blows." Another conference was held in 1913, with next one not taking place until 1921 due to an inconvenient war.
The conference that we're concerned with, however, is the fifth conference in 1927, the alumni of which appear in the top photo. The subject was Electrons and Photons, and the conference was veritable who's who of giants in the field of physics. Nearly everyone that could get away with calling Einstein "sonny boy" to his face without him taking a swing at them was present. He was a punk. This is the conference where Einstein and Bohr were arguing (rather loudly) about the Uncertainty Principle that the snot-nosed genius Heisenberg had thought up, and Einstein said to Bohr (very loudly), "God does not play dice you asshole!", to which Bohr replied (just as loudly), "Quit telling God what to do, you apostate Jewish bastard!". Ah, great times. Of course, time has massaged the exchange to match the desires of each man's sycophants, but that's the way history works.
After the jump there is a "home movie" of parts of the conference that was shot by Irving Langmuir, who is present in the above picture but wishing that he was taking it instead.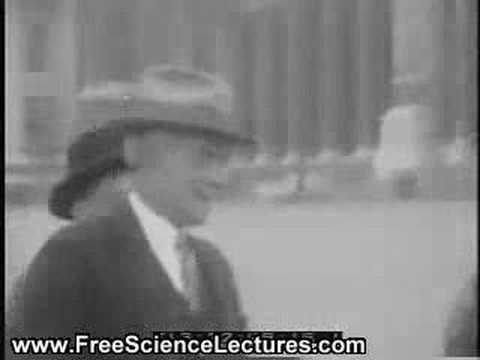 Solvay also founded the International Solvay Institute of Chemistry in 1913, as his ego was insufficiently salved by the Physics Institute and he had tons more money to burn. In 1970 or thereabouts, the two institutes were combined into one, the "International Institutes for Physics and Chemistry founded by Ernest Solvay", probably to save costs on stationery.
References
Wiki – The Solvay Conferences