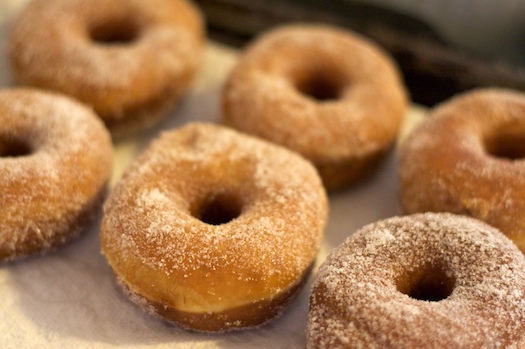 Ladies and gentlemen, tomorrow marks the 73rd passing of that annual American holiday known as National Donut Day!
WOOT!!
A tradition since 1938, National Donut Day occurs on the 1st Friday of every June and was conceived as a way to help feed the needy of the Great Depression, and commemorates the efforts of Salvation Army volunteers who handed out fresh donuts and coffee to troops during WWI, and later WWII.
Known as "Lassies", these wonderful ladies worked in "huts" (often derelict buildings) and provided writing supplies, stamps, baked goods and a clothes-mending service among other perks to the U.S. enlisted men along the front lines. The introduction of that exotic fried cake known as the donut was an idea that was born out of necessity, and changed the shape of a nation (literally) forever.
From Wikipedia: "When providing baked goods proved to be difficult among the ruins, two volunteers (Ensign Margaret Sheldon and Adjutant Helen Purviance) came up with the idea of providing doughnuts. These are reported to have been an "instant hit", and "soon many soldiers were visiting Salvation Army huts". Margaret Sheldon wrote of one busy day "Today I made 22 pies, 300 doughnuts, 700 cups of coffee."
[youtube]http://www.youtube.com/watch?v=4PoVMwjI2jY[/youtube]
At the end of the war, returning servicemen brought back with them a taste for these round and joyful treats, thus introducing the donut (or doughnut) into American popular culture.
Tomorrow, several large donut chains will be offering free donuts in observation of this long standing tradition, but we suggest taking the time to visit to your local small bakery might be in order, and in spirit of the original National Donut Day – helping each other out during tough times.
Now if you want to REALLY get in the spirit of things, here is the original recipe directly from the Salvation army.
Oh and dear Canada, get in there buddy. Your troops earned it right alongside your rowdy neighbors to the south.
(mouthwatering images courtesy of Erin cooks.com and various Salvation Army websites)