The other day someone mentioned "hit and miss" engines. Having never heard this term, I was all like, "What is that?" So, I went on a journey through the bowels of the interwebs reading about and watching Youtubes video of these bizarre creations.
Upon opening the Wikipedia page I saw engines that looked old, but in no way unusual. So, I read the words. Seriously, people in the 1800s had some interesting and innovative ideas on engine control. Rather than use a throttle to control the engine speed, the engine would fire then coast and then fire again when needed to maintain a constant speed. The intake valve was held closed by a spring and would only open when sufficient vacuum was drawn in the cylinder. The exhaust valve would be held open, thus preventing a vacuum in the cylinder, until a governor would close it when the engine speed dropped too low. A large flywheel would maintain the engine speed between combustion strokes.
These engines were the workhorse engines on farms and in factories in the early 1900s. They were very simple, with a simple needle-valve controlling the fuel/air mixture and a water tank in the cylinder head for cooling. Lubrication was often manual. They were used to power pumps, run saws, run generators and even used in early washing machines. In fact, some of the major manufacturers of these engines were companies like International Harvester, John Deere and Maytag.
There were some drawbacks. They were very heavy due to the flywheel. A 6 hp engine could easily weigh 1,000 lb. Also, they had open crankcases. This made maintenance and lubrication easier, but also made a mess as oil and grease were flung from the crankshaft. Even worse, dirt and debris could get in the moving bits of the drivetrain causing premature wear. Finally, they were done in with more sophisticated designs that were much lighter and self-lubricating.
Click the video below to hear one running. It's definitely a unique sound and a bizarre engine.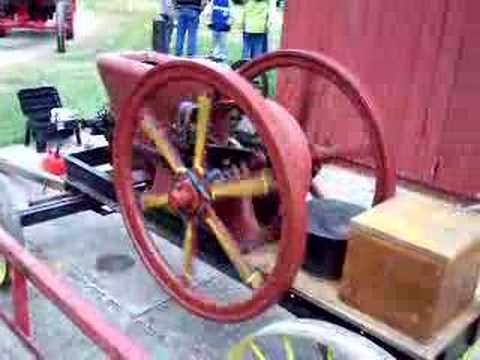 [Image Credit: Peter Jewell via Wikimedia]